American Institute of Architects Academy of Architecture for Justice Recognizes Hamilton County Coroner's Office & Crime Lab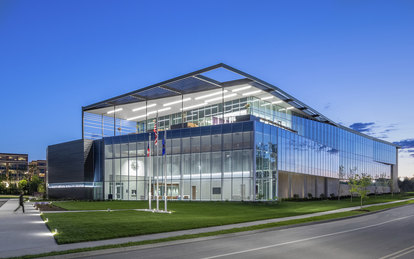 The American Institute of Architects (AIA) Academy of Architecture for Justice (AAJ) has recognized the Hamilton County Coroner's Office and Crime Lab in its 2021 Justice Facilities Review Awards program. The new 83,500-square-foot modern and light-filled facility with autopsy, forensic lab, office and training spaces, replaces an overcrowded 40-year-old building that no longer served the southwest Ohio community well.
Each year, the Justice Facilities Review Awards document best practices in planning and design for justice architecture. Winning projects must demonstrate exemplary qualities in the following categories: functionality; security and safety; technology and accessibility; community impact; sustainability and economic feasibility; and aesthetic achievement.
Located in an inner-ring Cincinnati suburb, the facility connects visually and physically to its context oriented to connect to the tree-lined streets, pedestrian pathways, and public green spaces while integrating levels of secure site access and screened building services. The new building is welcoming to the community it serves with a training center and lobby that regularly host county events, as well as ushering in the variety of visitors who access the facility during death investigations.
To improve efficiencies in workflow, the building is designed to encourage interaction between departments and laboratory sections. The autopsy portion of the facility supports respectful death investigations, and decedents are received and release to funeral homes through a screened sallyport. Staff can find respite from the street of their essential work in a third-floor break room and covered roof deck the overlooks the surrounding neighborhood.
Completed this year, the new facility is a well-appreciated addition for the community and those who work in it. Grieving families are treated with dignity in a secluded family room as they seek closure on the cause of death of a loved one. The integrity of the staff is enhanced through the architecture, which provides spaces that are transparent, yet are screened from public view.
SmithGroup provided integrated design services including laboratory planning, programming, architecture, interior architecture, MEP engineering, and lighting design, in partnership with associate architect KZF Design. The general contractor was Monarch Construction, Inc. and Vivian Llambi & Associates, Inc. provided landscape architecture.
For more information about SmithGroup, please visit our Company Fact Sheet.