Fraesfield Trailhead Honored by American Institute of Architects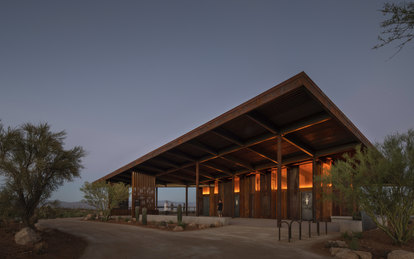 The American Institute of Architects (AIA) has recognized the Fraesfield Trailhead at the Scottsdale McDowell Sonoran Preserve in its 2021 AIA Small Project Awards program. The 1,107 sf trailhead building located in Scottsdale, Arizona supports the country's largest urban land preserve, comprised of 30,500 acres, that welcomes nearly one million visitors a year.
Each year, the AIA Small Project Awards recognize designs that are modest in budget and size but have an outsized positive influence on communities. Winning projects must demonstrate design achievement, fit into the environment and connect to the AIA's Framework for Design Excellence.  
The trailhead structure, which opened in late 2019, helps protect the preserve while amplifying its advocacy efforts and minimizing the impact on the fragile desert ecosystem.
The Fraesfield Trailhead is located on is subtle terrain was once home to a roaming cattle ranch homestead. The design references the site's agricultural history through its use of rusty textural steel panels. Oriented to provide protection from morning and early afternoon sun, the structure is integrated into the landscape and frames sweeping views of the preserve and nearby Tonto National Forest.
The trailhead provides restrooms and expansive overhangs, allowing for most activity, staging and programming to occur outdoors, protected from the Arizona sun. Faced with numerous challenges including limited utility access, drainage corridors, and powerline easements, the design highlights the unique character of the site while expanding access to a vast network of trails within the Preserve and Tonto National Forest.
The Fraesfield Trailhead has been recognized for multiple awards, including the 2020 Metal Architecture Design Awards, Natural Metal Category, 2019 American Institute of Architects (AIA) Arizona Honor Award for Distinguished Architecture, American Society of Landscape Architects (ASLA) Arizona 2019 President's Award and 2019 Award of Excellence, Planning and Analysis.
SmithGroup provided integrated design services including architecture, landscape architecture and MEP engineering. The general contractor was Valley Rain. Other key design team members included civil engineering by Dibble and structural engineering by Paul Kohler & Associates.
For more information about SmithGroup, please visit our Company Fact Sheet.