Award News | Architecture At Zero 2023 Competition Winner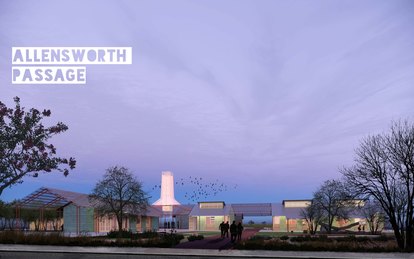 An interdisciplinary team of SmithGroup employees from San Diego, Los Angeles and San Francisco teamed up to submit their design for this year's AIA California Architecture At Zero competition. After reviewing more than 120 entries from universities and firms worldwide, the judges selected SmithGroup's submission as its 2023 Honor Award winner in the Professionals category.
The prompt for this year's Architecture At Zero competition was to help reimagine an agricultural center and design housing for farm students in historic Allensworth, California, located north of Bakersfield. Established by Allen Allensworth in 1908, the town was the first in California to be founded, financed and governed by African Americans.
SmithGroup's design seeks to achieve the overall goal of "connecting the history of California's first Black town to its present aspiration to become a destination for sustainable agriculture and Black history." The team's design solution, called "Allensworth Passage" centered around resiliency in the face of climate change and economic instability. It allows for future growth and expansion, provides dynamic community gathering spaces, showcases a high-performance blend of passive design and renewable energy and celebrates the important history of the site and how that history informs future innovation in farming.
This high-profile competition win is a testament to the power of integrated design at SmithGroup, and a showcase of the team's talent and commitment to climate action and justice, equity, diversity and inclusion.