SmithGroup Selects Roxanne Malek as New Managing Partner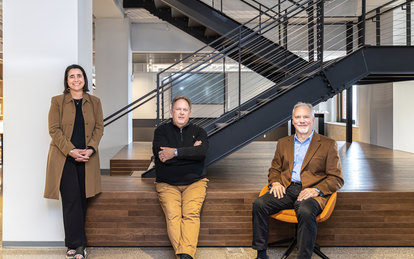 SmithGroup, one of the nation's leading integrated design firms and the oldest continuously operating architecture and engineering firm in the country, has announced a transition within its leadership team. Roxanne Malek, AIA, LEED AP BD+C, DBIA has been named as a Managing Partner, joining Russ Sykes, PE, LEED AP and Troy Thompson, AIA, LEED AP to form the three-person team leading the firm. Malek succeeds Mike Medici, AIA, NCARB who has served as a Managing Partner with Sykes and Thompson since 2015. Medici, a 42-year veteran of SmithGroup, will support a number of initiatives for the firm through November.
Malek has been with SmithGroup for over 25 years, first joining the Science and Technology studio in its San Francisco office. Prior to her most recent role as Director of Operations for SmithGroup's west coast offices, Malek launched the firm's Higher Education studio in Northern California, serving clients at Stanford University, UC Berkeley, UC San Francisco, UC Merced, UC Davis Health, CSU Chico and Contra Costa Community College. She has been at the forefront of advancing the firm's expertise in collaborative project delivery models, from progressive design-build to integrated project delivery and is an active presenter at Design Build Institute of America (DBIA), American Institute of Architects (AIA) and Society for College and University Planning (SCUP) events. Malek has been on SmithGroup's Board of Directors since 2016 and was named one of the "Most Influential Women in Bay Area Business" by the San Francisco Business Times in 2022.
Malek's selection as Managing Partner is part of the firm's long-standing, strategic approach to succession planning. "Our ability to transition firm leadership from one generation to the next is part of our DNA and has allowed us to thrive for 170 years", said Sykes. "The three-person leadership team model has been an integral part of our success over the past eight years and continues to best support the firm's ongoing growth and evolution".
"My career has been focused on transforming how we practice by integrating design and technology, elevating our climate action commitment, developing high-performing teams, engaging in integrated delivery models and creating an impactful experience for our clients," said Malek. "I am honored to be collaborating with Russ Sykes and Troy Thompson, both of whom are extraordinary role models, to design the future of this firm."
For more information about SmithGroup, please visit our Company Fact Sheet.