Urban Heat Research by SmithGroup's Keenan Gibbons Featured on CNN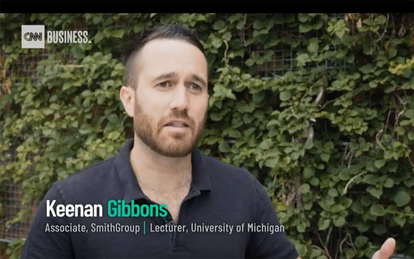 Amid the hottest summer ever recorded in world history, CNN sent a crew to Omaha, Nebraska to interview SmithGroup landscape architect Keenan Gibbons and his University of Nebraska-Lincoln research partner Salvador Lindquist about their drone-based thermal analysis of urban heat impacts. The resulting story/video can be viewed here.
Keenan and Salvador's innovative research proposal Heat Waves: Visualizing Thermal Disparities was funded by the Landscape Architecture Foundation's 2023 Research Grant in Honor of Deb Mitchell. Findings from their research will advance understanding of how thermal visualization tools can be used by designers to measure and mitigate the inequitable distribution of intense surface temperatures in our cities. Keenan and Sal will also develop a toolkit to help planners, designers and policymakers make better-informed decisions, create more just and equitable urban landscapes, and advocate for improved public health outcomes and the use of nature-based solutions.