Designing a Carbon-Positive Future: Part 2
This post builds on the first in the series, providing implemented examples of how interior design projects can play a significant role in reducing embodied carbon: the greenhouse gas emissions resulting from building material manufacturing, transportation, installation, maintenance and disposal over a building's lifetime. 
Decarbonization Case Study #1: 
American Red Cross: Bay Area Headquarters, San Francisco, CA 
This tenant fit out project from 2013 renovated a building built in 1921. Originally used as a multi-level parking garage, it subsequently housed retail, schools and a church—representing an extensive history of adaptive reuse. The interior design adopted an open plan with no private offices spread across two floors; the floorplan provides flexibility for seasonal volunteers and interns and enables disaster response teams to transform the space into an emergency control center during a crisis. The project scope included a seismic upgrade taking full advantage of the building's existing good bones.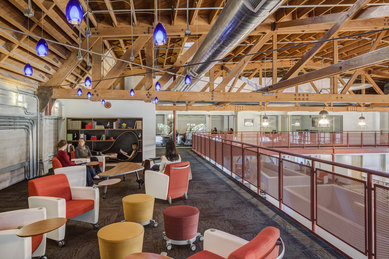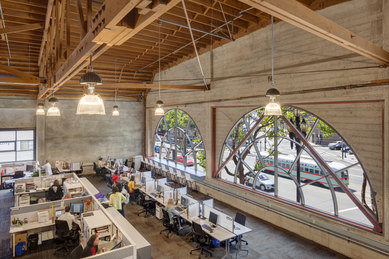 Exposed trusses and wood rafters show the unique characteristics of the structure as well as reduce the embodied carbon emissions by 12,399 kg CO2e by eliminating suspension ceiling systems. Expansive windows and skylights flood the space with daylight and views into the neighborhood. They also reduce the operational carbon from energy use by reducing energy consumption during the daytime. 
The board-formed concrete exterior walls are left exposed to highlight the building's history and the texture of raw materials. They also help with embodied carbon reduction by eliminating any interior furring out walls (5,671 kg CO2e), paints or decorative shroud materials. 
Several materials and fixtures were salvaged from another job site being demolished by the general contractor. As a result, 30% of the lighting, 50% of the carpet, 100% of the door hardware and 100% of the ceiling tiles were salvaged and reused.  
While new construction of a two-story office building with the same footprint would generate an embodied carbon total of 372 kg CO2e /m2 for a 60-year life cycle, the Red Cross TI project dramatically reduced the embodied carbon to 84 kg CO2e /m2. Although interior renovations of an existing building can expect to see more embodied carbon emissions in the B4-B5 replacement category over its 60-year life cycle, this project shows how much we can reduce embodied carbon in the A1-A3 category by reusing the foundation, structure and building envelope. 
LCA for LEED, Global warming, kg CO2e—Elements and life-cycle stages  
Decarbonization Case Study #2: 
DPR Construction Sacramento Zero Net Energy Office, Sacramento, CA 
This 2019 project retrofitted two poorly performing existing buildings with an addition/expansion to a third existing building to create new agile and open office space for DPR Construction. The design realizes significant reductions in embodied carbon through its extensive and visually striking use of mass timber. The design team and client implemented energy conservation, passive design and incorporation of renewable energy as well as strategies to reduce embodied carbon. With Net Zero Energy (NZE) becoming a requirement for all commercial buildings in California by 2030, the design meets and exceeds this mandate. It targets Net Positive Energy and is designed to achieve LEED® Platinum and WELL certification standards.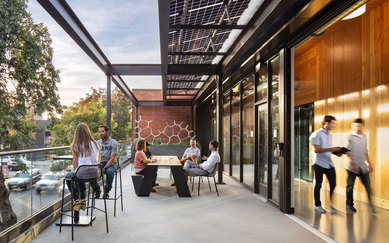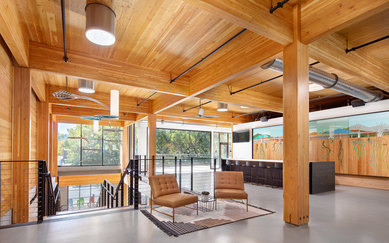 Exposed timbers help reduce embodied carbon by 71,789 kg CO2e because unlike conventional steel or reinforced concrete, timber sequesters carbon and can also be left exposed, eliminating ceiling and wall finishes. Timber construction also enhances the biophilic design concept. Open plan layout reduced the stick-built items such as walls, ceilings and doors. A sealed concrete floor was implemented throughout most of the space except the workstation areas and conference rooms, further reducing embodied carbon by exposing an existing slab.  
Although this project includes an addition to an existing building, the embodied carbon emission for the entire scope totals 146 kg CO2e /m2, which is comparable to an exemplary interior renovation project benchmark. A new concrete in-situ-structure building for the same footprint would have had an embodied carbon of 313 kg CO2e /m2. 
New photovoltaic panels were integrated in atypical locations—above the rooftop terrace and existing/new roof and carport. Thanks to onsite renewable energy production (30 kBtu/sf-yr), the total carbon emission of this whole building over a 60-year life cycle (including operational and embodied carbon) will be net positive beyond net zero.