The Voice of Interns: Designing through Research & Innovation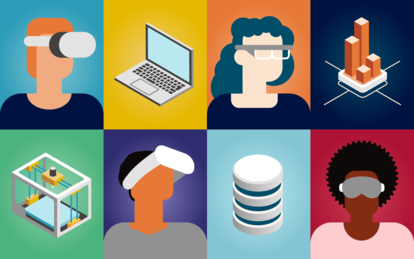 Passion and curiosity are two of our corporate values that have led to the creation of a culture and long history of integrating research and innovation through our design work. Our teams are always exploring, testing, and learning how these two areas can solve the emerging challenges of our clients and our world. Driven by a team with a diverse set of backgrounds, from architects and engineers using technology to solve problems, to developers, data scientists and technology specialists analyzing information and building custom tools for our clients, we are at the forefront of bringing unique solutions to critical design challenges.
We believe that it is important that our interns also understand the importance of research and innovation during their time at SmithGroup and look for ways that they can integrate it as part of the intern experience. We asked our 2023 summer interns for their thoughts on research and innovation, artificial intelligence, and the role technology plays.
Integrating Research & Innovation to Advance Design Solutions
"I have learned that some challenges in the AEC industry can be solved by learning and adapting to become more productive and efficient in relation to the rise of material costs, acute needs for infrastructure improvements, and increasingly complex project scopes If the industry is not integrating research and innovation, it is difficult to design solutions for those challenges. By investing in research and innovation, this can help the industry to meet society's changing needs and gain long-term benefits."  - Ngoc Phan, Seattle University, Master of Science in Mechanical Engineering
"The world is evolving, and AEC professionals must enhance their design skills to keep up and advance rapid technological development. Through constant research and innovation, the results help improve efficiency and productivity, address complex challenges and crises, and attract talented individuals from diverse fields to collaborate and contribute their expertise."  - Cirilla Xue, The University of Michigan, Master of Urban Design
Applying Technology as Part of the Design Process
"During my internship at SmithGroup, I began to acquire proficiency in Revit and BIM 360. This experience provided me the opportunity to engage in practical applications within a diverse and extensive team, a dynamic I had not encountered in an academic setting. Through this exposure, I have gained an appreciation for the role emergent technologies play in fostering collaboration and augmenting efficiency in conjunction with my mentor and esteemed colleagues."  - Mavis Zhao, University of California, Los Angeles, Master of Architecture
"At SmithGroup, I learned to integrate visualization tools, such as Map My Campus, Remix, and Community Analyst. These tools have a visualization interface that helps designers better understand the community through survey results, data, and the influence of intervention. They also are important to the process of public participation by providing a more legible data platform." - Cirilla Xue, The University of Michigan, Master of Urban Design
Changing how we think about Research and Innovation
"Innovation is key to a successful design. Strong researched ideas can make the foundation of our design process, allowing more time for critical thinking towards the client's needs. Through innovation we can focus on developing creative ideas that are financially possible, market attractive, and humanly desirable." - Albert Diaz Loza, Universidad Panamerica, Bachelor of Science in Civil Engineering and Administration
"As an intern at SmithGroup, research and innovation have enlightened me on the multifaceted nature of the design process. I have recognized the importance of integrating cutting-edge technologies, streamlining collaboration and improving visualization. Additionally, I now understand the significance of sustainability and human-centered design, which has led me to reevaluate traditional approaches and embrace innovation to develop solutions that have a lasting positive impact." - Mavis Zhao, University of California, Los Angeles, Master of Architecture
The Impact of Artificial Intelligence (AI)
"I have learned that artificial intelligence can be utilized to develop environmentally friendly building designs. AI algorithms can assist architects in designing buildings that are optimal in terms of sustainability by analyzing data on energy usage and water consumption, which leads to a reduction in cost and an increase in energy efficiency. Also, AI can provide architects with access to vast amounts of data, assessing the built environment and generating cost estimates, which makes design and building times shorter." - Ngoc Phan, Seattle University, Master of Science in Mechanical Engineering
"Artificial intelligence can be used positively to plan for space and resource optimization. Our built environment is directly linked to what is financially viable. We can set the ground rules for our design and let AI rethink them, searching for the most efficient and economical layouts." - Albert Diaz Loza, Universidad Panamerica, Bachelor of Science in Civil Engineering and Administration
"I've observed that AI positively impacts the design of built environments by enhancing data analysis for informed decision-making, optimizing designs for sustainability and efficiency, and automating repetitive tasks to free up creative bandwidth. Additionally, AI's simulation capabilities allow for testing multiple design scenarios, leading to safer and more innovative solutions. It fosters collaboration and accelerates project timelines, revolutionizing the AEC industry." - Mavis Zhao, University of California, Los Angeles, Master of Architecture