Kansas City University Master Plan and College of Dental Medicine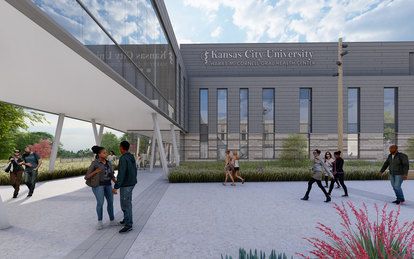 Building upon a philosophy of holistic healthcare, the Kansas City University (KCU) Farber-McIntire Joplin Campus master plan and new dental education center emphasize the rewarding intersection of patient care and education. 
Client
Kansas City University
Location
Joplin, Missouri
Markets/Services
Architecture, Campus Planning, Fire Protection and Life Safety Engineering, Higher Education, MEP Engineering, Programming, Structural Engineering
Size
99,300 GSF
One of the nation's oldest colleges of osteopathic medicine, KCU partnered with SmithGroup to develop a master plan for its second campus, located in the southwestern Missouri city of Joplin. Anchored by its College of Osteopathic Medicine, the Joplin campus expands and reinforces the university's commitment to holistic health, with special emphasis on healthcare for rural, underserved areas in the four-state region of Missouri, Arkansas, Oklahoma, and Kansas. Following the master plan, KCU contracted with SmithGroup and Helix Architecture + Design for the design of the College of Dental Medicine.  
Reflecting an institutional commitment to holistic health, the College of Dental Medicine and College of Osteopathic Medicine are connected to promote interdisciplinary learning opportunities and interprofessional collaboration in classrooms, laboratories, and study areas. A skyway provides a physical and metaphorical bridge from classrooms shared by medicine and dentistry to the clinics located in the Oral Health Center, where students obtain real-world training and provide patient care to prepare them for practice. The clinics include dedicated space for medical examination and chronic disease monitoring, advancing the idea that oral health is fundamental to overall health.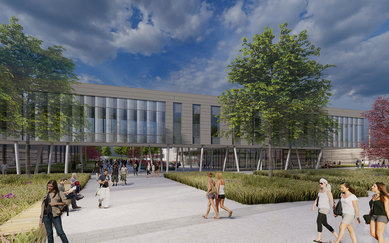 The College of Dental Medicine building establishes a strong new identity and visibility for the program. Above a masonry base, a skin of dark metal panels reflects the region's zinc and lead mining heritage. A slope on the west side of the four-story Oral Health Center building helps to create a prominent public entrance below a high roofline that reaches toward the approach road. A dedicated student space sits east of the building, and an outdoor plaza and walkway lined with shade trees and native plantings extends between the two dentistry buildings and continues beyond the skyway.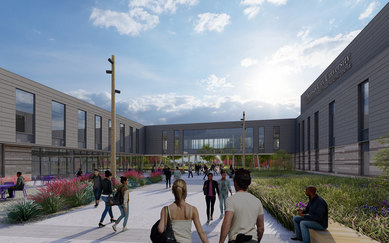 The integrated design concentrates structural support along the perimeter, allowing for a clear span across the large floorplate to accommodate future needs of the treatment floor or other shell spaces. 
Although the clinical design was largely complete before the COVID-19 pandemic, the team carefully evaluated new guidelines for oral healthcare settings from the Centers for Disease Control and Prevention, as well as a position document on reducing infectious aerosols by the American Society of Heating, Refrigerating and Air-Conditioning Engineers. By integrating many of these mitigation strategies for virus transmission into design and construction documents, KCU was not only protected from inevitable construction cost escalations, but it also became the first dental school in the nation with a design fully informed by the pandemic that incorporates the latest protocols.  
Another unique aspect of the building is the inclusion of two storm shelters: concrete shells with customized structural, plumbing, and mechanical solutions. The Joplin campus occupies the site of a temporary hospital built after an EF-5 tornado destroyed one of Joplin's hospitals in 2011. 
The Joplin campus master plan and the dental education center open the door for a bright future for KCU and the region. Plans include expanding growth areas for additional health sciences and on-campus student housing; better pedestrian linkages; outdoor spaces for students to study, dine, and socialize; restorative landscape that creates a healthier ecosystem of native plantings; and rain gardens that manage stormwater onsite, eliminating the need for underground detention. 
Embodying the concept of holistic wellness, KCU-Joplin is an environment that attracts and nurtures those committed to excellence in patient care and community service.