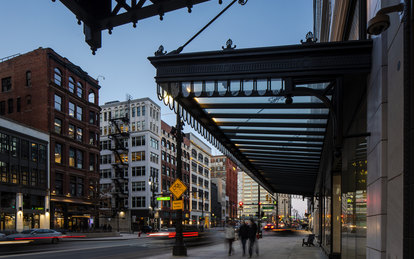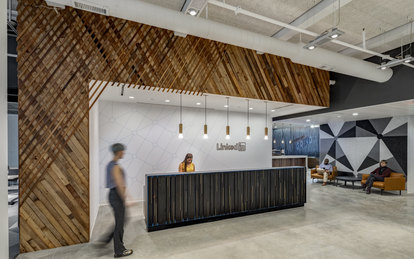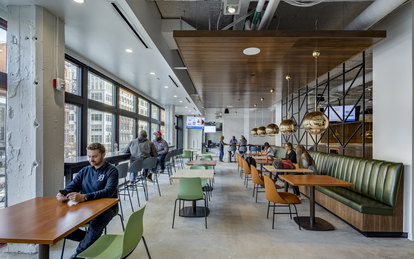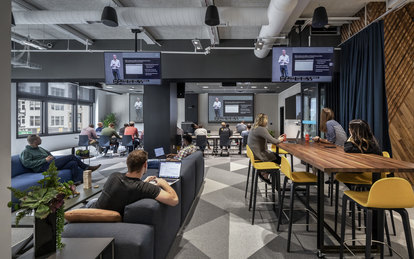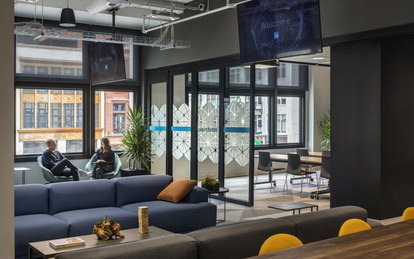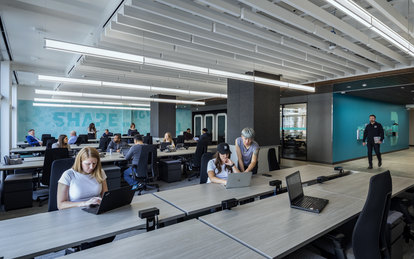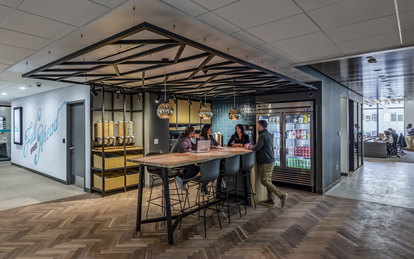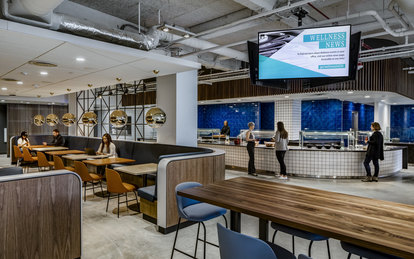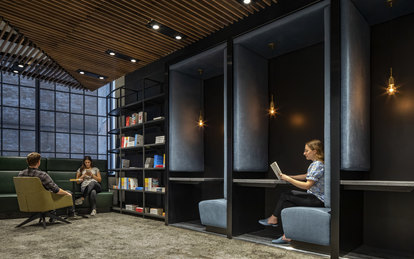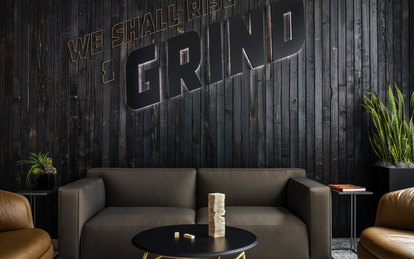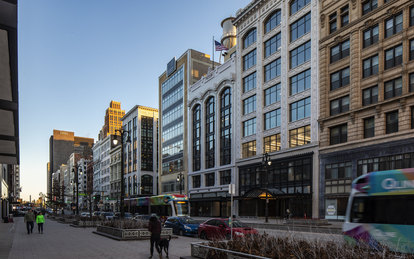 LinkedIn's mission is rooted in connecting members of the global workforce to economic opportunities, resources, and networks. When the tech giant decided to establish a presence in Detroit, they partnered with SmithGroup and a team of local artists, artisans and fabricators to create a workplace that celebrates the Motor City's culture, tenacity, and entrepreneurial spirit.  
Location
Detroit, Michigan
Markets/Services
Workplace, Office, Architecture, Interiors, Corporate Interiors, Corporate Office Buildings, Commercial Office Buildings
With offices around the globe, LinkedIn could have served the Detroit marketplace from any number of locations. But the company's leaders were inspired by the city's ongoing resurgence and the amazing talent and grit that they saw in its communities. Wanting to help propel this momentum and fuel continued economic impact, LinkedIn decided to put down roots in the heart of the city. With ambitious goals to expand its Detroit workforce from 70 to over 300 employees, LinkedIn sought out a dynamic space that would accommodate growth while celebrating its workstyle and culture.  
The company landed on a 35,000-square-foot space comprised of two adjacent office buildings—the historic Grinnell Building and Sanders Chocolate Building, which had both been vacant for nearly four decades. SmithGroup provided a full range of architectural design and MEP engineering services for the build-out, as well as coordination of food service spaces and AV/IT and security systems.  
To create the feel of an urban and modern workplace, the design incorporates hospitality-level amenities that rival high-end environments one might expect in a hotel or entertainment district, including a gourmet coffee shop with barista, a full servery, and more. The second, third and fourth floors are outfitted with open workstations, meeting and phone rooms, and employee break/lounge spaces. To support LinkedIn's goals of enabling equitable access and positive social impact in the areas in which it operates, the company invites the community to host meetings and events in its public and open spaces, such as the flex area and training room on the building's second level.  
The company's commitment to creating employment opportunities and driving positive economic impact extended to the design and construction of its new space, too. Skilled labor was provided by local construction and tradespeople, from millworkers and sheetrock specialists, to the artist (Pat Perry) commissioned to create murals seen throughout the office's interior spaces. To ensure an authentic character and feel within the space, members of SmithGroup's design team visited local salvage yards and antique shops to select reclaimed wood and artifacts to be incorporated into the design.  
In the same spirit, LinkedIn charged the team to get creative and incorporate as many sustainable design solutions as the tenant build-out effort would allow. As a result, the project is anticipated to achieve LEED Silver certification and has been incorporated into a network of global facilities that LinkedIn uses to benchmark energy efficiency across its operations. 
Strategic. Bold. Impactful. LinkedIn's decision to invest in a pair of abandoned, historic buildings in the heart of downtown Detroit is creating a network of new employment and economic opportunities for the city and its residents. SmithGroup and a team of local partners were instrumental in bringing the company's transformative vision to life.