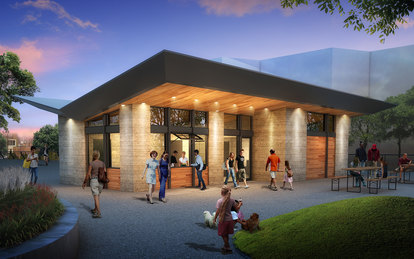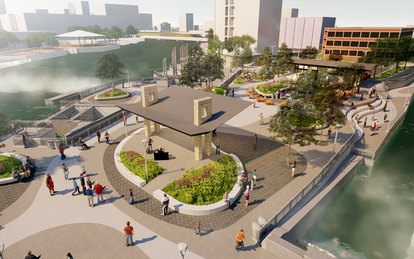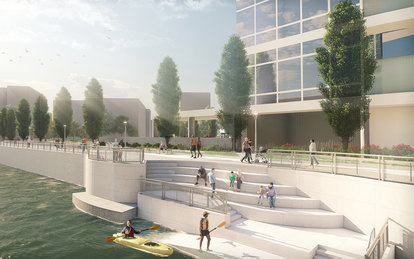 Rebuilt atop a new hydroelectric facility, South Bend's most emblematic park returns better than ever, overcoming significant site complexities to provide new programmatic elements, more inviting gathering spaces, and improved access to serve diverse users.  
Client
City of South Bend, Indiana
Location
South Bend, Indiana
Markets/Services
Civil Engineering, Landscape Architecture, Lighting Design, MEP Engineering, Parks & Open Spaces, Structural Engineering, Urban Design
After partnering with South Bend's Venues Parks & Arts on its 2017 master plan, the national-award-winning department tapped SmithGroup to tackle the most challenging implementation project in the plan—redesigning and restoring the city's signature riverfront park. The two-acre project entailed a tricky interplay of improving access and amenities, adding considerable landscape features, while maintaining iconic elements of the previous park, all on an isolated peninsula, now encumbered with massive hydropower infrastructure on and below it. Beyond the design and engineering challenges, SmithGroup facilitated a consensus approach and successful approval process between multiple entities including the City, the University of Notre Dame, neighboring properties, as well as state and federal regulatory agencies.  
The new design for Seitz Park addresses the myriad of challenges to deliver a contemporary, flexible community park. It weaves together new programmatic features, recreational elements, and inviting outdoor spaces befitting the city's premier gathering place, while disguising emergency access, service, and heavy hydroelectric infrastructure in plain sight.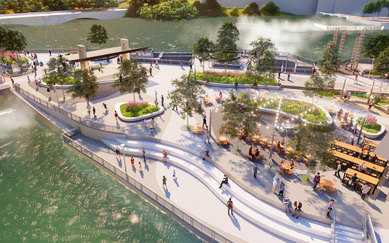 The redesigned park provides a more dynamic interface with the water around it. Two multi-modal trails, the East Bank Trail located along the St. Joseph River, and the East Race Path, provide important connectivity to the park and to the City's broader trail network. Along the trails are tiered waterfront seating areas, spectator viewing for whitewater events, portages for river users, and enhanced viewpoints for popular park elements like the fish ladder and the South Bend River Lights installations. A new bandshell at the park's tip replaces an aging performance stage. Nearby, a new pavilion houses restrooms, a ticket/vending counter and event services that were previously resigned to temporary structures. Together, these features create an improved venue for the City's strong program of festivals, performances, and recreational opportunities. 
The landscape plan softens what was predominantly hardscape, adding dozens of large shade trees and planted areas interspersed with pockets of outdoor seating. Curving pathways mimic the flow of water and slide between the planters and landform to organize the park. The raised landscape helps define through circulation, small and large gathering spaces, while perching the plant material neatly above the hydroelectric infrastructure below. With new amenities, enhanced programming, improved connectivity, public art, and expanded opportunities to interact with the water (both visually and physically), Seitz Park is once again poised to serve as one of South Bend's most beloved open space for everyday enjoyment and community-wide celebrations.