The Christman Company Headquarters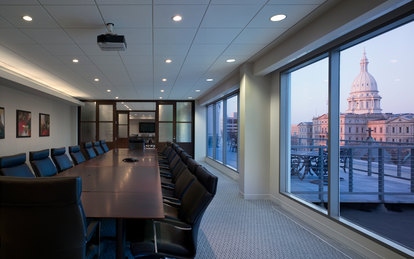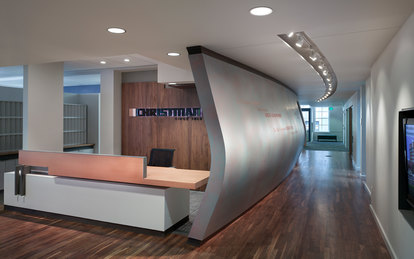 The unwavering commitment to quality and sustainability has led to a tremendous architectural victory: taking an historic building and not only restoring it for the present but ensuring its longevity from a sustainable standpoint. This project shows the kind of true innovation that can result from holding on tenaciously to our and our client's core values.
Client
The Christman Company
Location
Lansing, Michigan
Markets/Services
Architecture, Building Enclosure Consulting, Corporate Headquarters & Campuses, Corporate Interiors, Historic Preservation, Interiors, Landscape Architecture, Lighting Design, Programming, Workplace
Size
64,190 SF
Featured Awards
Quadruple Platinum LEED Certified: Existing Building (EB) Recertification, 2012
Illuminating Engineering Society (IES) -- Illumination Award of Merit, 2009
Historic preservation and sustainability are both complementary and contradictory. By nature of reusing a building and repurposing its structure, preservation saves energy and resources. On the other hand, LEED certification often requires the replacement of historic fixtures with more energy-friendly options.
These incompatible practices result in very few attempts to merge the two. However, when The Christman Company was looking for a new office building, SmithGroup's expertise in historic preservation and sustainable design created a solution that could meet both needs. 
Built in 1928, the historic art-deco building used to be home to Michigan Millers Mutual Insurance Company before The Christman Company relocated. The former use of the building was for grain mill storage, influencing much of the facade, brick and limestone details representing harvest.
Our team respectfully modernized the building and its craftsmanship through rebuilding the deteriorated exterior limestone, restoring and replacing windows, structurally modifying the existing concrete frame structure, and updating the mechanical and electrical systems. A partial six floor was also added to accommodate conference facilities, as was an educational training room served by new kitchen and toilet facilities.
The resulting building is the first in the world to become double LEED Platinum certified for both its core and shell, and interiors. Taking a giant architectural step for mankind, The Christman Company and SmithGroup have bridged a temporal canyon that has never before been crossed.