Designing for the Future of Dental Education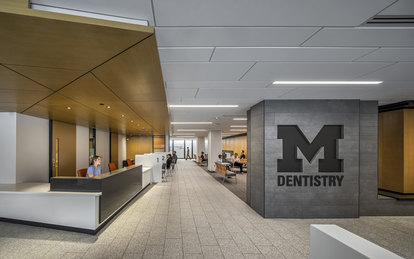 In March 2023, SmithGroup hosted an Advisory Board discussion with leaders from eight dental schools representing diverse perspectives. This discussion builds on conversations SmithGroup has hosted at the American Dental Education Association Annual Session & Exhibition for the last several years. The conversation focused on three main topics: 
Design's relationship to current and future practice models 

Quality of the experience for students, patients, and faculty in a dental school environment 

Technology integration 
Key findings from the discussion include the importance of flexibility in the group practice model, design of programs and spaces with a focus on patient wellbeing, the importance of facilitating faculty-student engagement, and an ever-present focus on technology integration in all aspects of dental education.  
Dental education is in a period of significant transformation. SmithGroup is consistently engaged in an inquiry mindset, challenging ourselves and our university partners to design for future models of education, supporting the next generation of dental students.