Spectrum Health Lakeland - Lakeland Medical Center Pavilion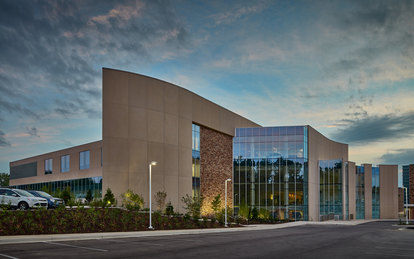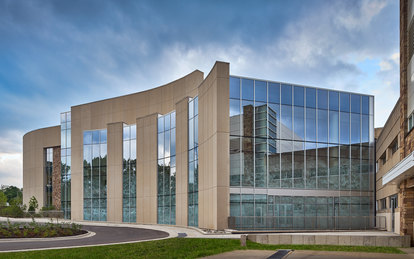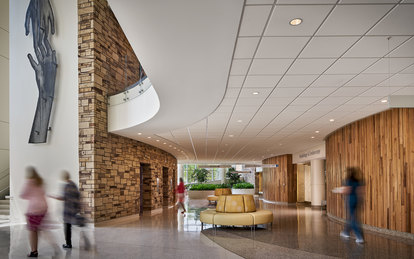 For a Western Michigan city on the shores of Lake Michigan, what began as a simple addition to a hospital evolved into a complete reimagining of the medical center's infrastructure, diagnostic & treatment services, and the patient/family experience.
Client
Lakeland Medical Center
Location
St. Joseph, Michigan
Markets/Services
Acute Care, Architecture, Civil Engineering, Fire Protection and Life Safety Engineering, Health, Interiors, Lighting Design, Structural Engineering
Size
355,000 SF
Featured Awards
American Society of Heating Refrigerating and Air Conditioning Engineers (ASHRAE), Regional Technology Awards, 2021
American Society of Heating Refrigerating and Air Conditioning Engineers (ASHRAE) Illinois Chapter Technology Awards, Excellence in Engineering, 2020
Lakeland Medical Center, like many older hospitals, is made up of multiple buildings added over time, which resulted in a fragmented structure and confusing navigation. After originally planning a complex but limited OR expansion and modernization, hospital leadership—inspired by Lakeland's mission as a community health resource—instead began working with SmithGroup to re-envision the future of Lakeland Medical Center. It was reinvention through reinvestment, as our team worked to redesign the medical campus.
Beginning with a six-month pre-design analysis, SmithGroup developed a detailed facility obsolescence survey at the departmental (ability to deliver care) and facility (systems, circulation, conveyance) levels. We then developed a long-range redevelopment plan (where all departments will ultimately go); an innovative, scenario-based MEP systems master plan for the entire campus; and a short-term facility plan and phase I design, encompassing a new 260,000 sf clinical pavilion and 90,000 sf of renovated space.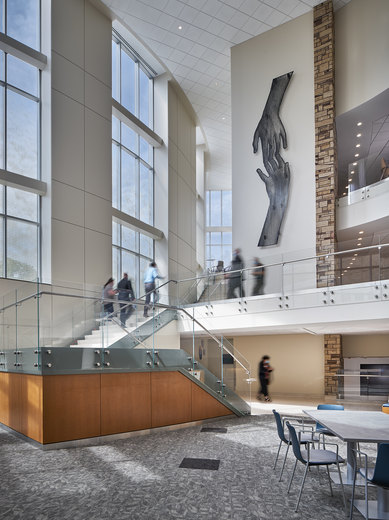 The pavilion houses a comprehensive imaging suite, advanced surgical platform, short-stay unit, a heart center and a new intensive care unit. A new three-story, light-filled atrium serves as the primary public space for the entire campus and includes an expansive farm-to-table café, a health concierge, and a conference center for staff and community education.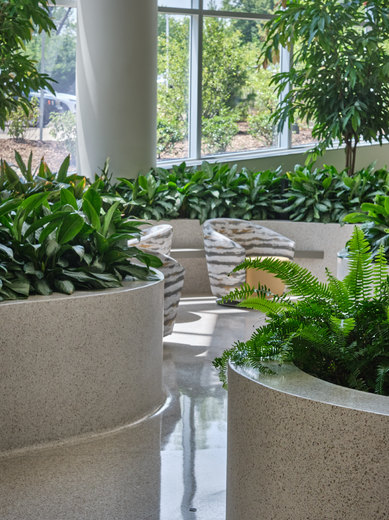 Inspired by the client, the team's holistic vision for the expansion informed every major design decision. For example, to create column-free spaces on the pavilion's lower level, SmithGroup's structural engineers designed the second and third floors to be hung from trusses above, supported by the existing building, yielding the needed open floor plan to accommodate a 300-seat conference center.
Faced with an aging, unreliable and inefficient infrastructure, including an oversized steam boiler plant, SmithGroup's engineering team leveraged the excess steam for other uses-increasing the efficiency of the existing plant while avoiding costly separate boilers in the addition. An innovative cooling system design makes use of redundant chillers for cooling, a heat recovery chiller and a chiller dedicated to making ice at night and providing chilled water during the day. SmithGroup's electrical engineers worked with the local utility to upgrade the campus to reliable high voltage service and a redundant medium voltage system to enable the campus to be more resilient. The pavilion is designed with three emergency generators but capable of running on only two generators for redundancy and failure protection.