Virginia Tech - Innovation Campus and Academic 1 Building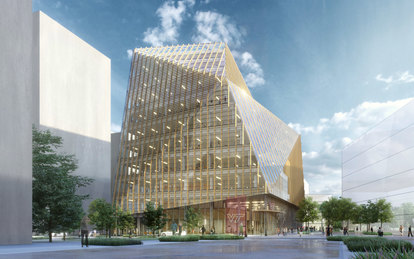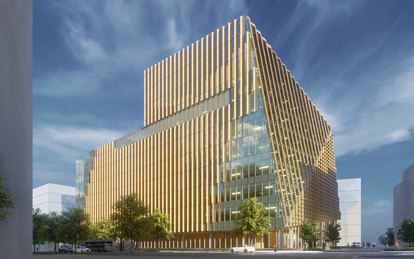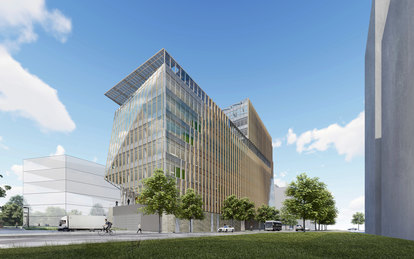 The Virginia Tech Innovation Campus, with a focus on computer science and computer engineering, will transform and sustain the greater Washington D.C. metro area as the next emerging tech hub for talent and innovation. Working at the increasingly blurred boundaries between humans and technology, the campus will ignite the regional ecosystem and advance national competitiveness.
Client
Virginia Polytechnic Institute and State University
Location
Alexandria, Virginia
Markets/Services
Architecture, Higher Education, Landscape Architecture, MEP Engineering, Sustainable Design
The impacts of technology are far-reaching—influencing quality of life, government and public policy, security and privacy, creativity and arts, entrepreneurship and more. Through its Innovation Campus and deep partnerships, Virginia Tech is aggressively driving change, while also achieving the Commonwealth's commitment to double the tech talent pipeline, a goal set forth in the proposal that attracted Amazon to Northern Virginia. The campus's first building—centered on the principles of sustainability, health and wellness, green and social spaces, accessibility, connectivity, flexibility and integrated technology—promises to become a model of integrated high-performance design.
Combining Virginia Tech's strengths in STEM with a strategic location near the nation's capital and leading tech companies, the Innovation Campus will address society's most pressing challenges while educating technology pioneers to drive prosperity for the next generation. The Innovation Campus will serve as an easily accessible place for people from a variety of backgrounds to learn, research and gain new skills. This commitment is brought to life through the design of an incredibly high-performing, connected and sustainable campus.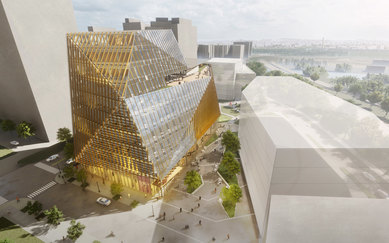 The compact, four-acre campus will eventually comprise three academic buildings. It is the anchor of North Potomac Yard's first phase, a 15-acre mixed-use innovation district. It includes a mix of office, industry innovation space, residential, retail and public park space, and is served by a new Metro station on its south side. Recognizing that the 300,000-square-foot Academic 1 building will establish the precedent for the campus, Virginia Tech and SmithGroup created a model facility that makes a meaningful statement about the University's commitment to sustainability and resilience.
The team made many design decisions through the lens of carbon goals, including analyzing ways to reduce embodied carbon emissions from materials and construction. It used next-generation computational design techniques to generate models that flexed the building shell in numerous ways and explored different configurations of faceting to optimize photovoltaics. The resulting design is essentially sculpted to capture the sun's light and energy. Numerous photovoltaic technologies are anticipated to be utilized including conventional PV panels in addition to building-integrated PV that is incorporated into the vision glass of the facade. The form is further sculpted to facilitate a welcoming ground floor as well as dynamic interior spaces and several terraces with views of the Capital region. An adjacent ecosystem park will be designed to allow for future phasing of one or more geothermal sources such as vertical ground-coupled heat exchange, or wastewater heat exchange from the entire development which will flow through a new pump transfer station just north of the Innovation Campus. The building is anticipated to consume no fossil fuels except where required by building code, and the design team is otherwise targeting a carbon neutral outcome.
Designed as a 'flexible container' and tested with various program configurations, it will be able to grow and adapt to the ever-evolving nature of computer science. Primary heating and cooling equipment will be modular, enabling it to be installed in a phased manner to match the load.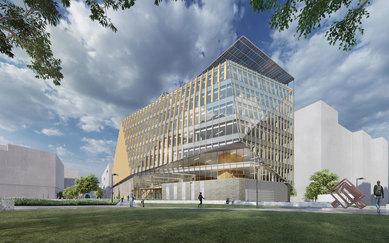 The overall site and building design promote connectivity among campus and community. The landscape design transitions from urban plaza to campus green—referencing a classic campus—with spaces for community programming, and landscape features oriented to draw people in, rather than act as boundaries to keep them out. The building's first floor will be activated with exhibits in the lobby and transparency toward the mixed-use development and campus green. With this transparency the University can put science on display to better connect with the local community and attract future students. Portions of the ground floor cladding and the landscape site walls incorporate the iconic "Hokie" stone prevalent on Virginia Tech's Blacksburg campus, a symbolic link between the flagship campus and the Innovation Campus.
A magnet for talent, research and education, Virginia Tech's Innovation Campus, ideally located adjacent to Amazon's HQ2 and other potential industry partners, is destined to expand the role of computer sciences and related disciplines in the Washington metropolitan region and beyond. By advancing technology for the human good, it redefines the role of the land-grant institution for the 21st century.