An Inclusive Design Future for Black Communities & Individuals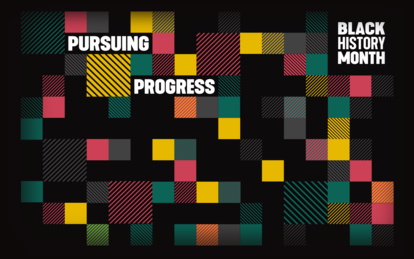 Our promise at SmithGroup is to design a better future for clients, communities and ourselves. Part of how we fulfill that promise is by closely examining our culture internally and by being critical of our approach to the design process. As we seek to create a more just and inclusive future, we asked Black/African American members of our staff to share their thoughts on designing for the complexities inherent in diversity and for Black communities and individuals specifically.
Acknowledging and redressing design injustices
It's no secret that common design practices of the past frequently harmed minority communities of all types. Even today as the design industry seeks to become more diverse and equitable, barriers, biases and harms persist. Several of our colleagues at SmithGroup volunteered their thoughts on what actions are necessary to redress the design injustices that affect Black communities.
"The first step is acknowledging the harms that have been perpetuated against Black communities. Design has historically created poor conditions for Black and brown people. We tend to gloss over the issues at hand, but we must address the pain caused by the AEC industry in past times. Secondly, we must begin to include the voices of people of this community through the design process, as we are designing for them. When designing for Black communities, our personal point of reference can create a disconnect between the design and the people who use the space, hindering the connection between the two. Including their input creates a bridge between the physical and emotional connection with the design." - Asha Pérez, Interior Designer
"We need to seek out (or make if they are not present) opportunities to use design to help effect (or impact) communities. Architecture cannot solve all problems, but it can help bring those affected closer to an equitable playing field. But it does not stop there. We must execute our work. Make it real. And once we put our design into reality – we must remain active in those communities we help. Keeping relationships and connections alive is part of our job. We should be able to do that with any demographic, but especially within Black communities." - Shawn Waddell, Structural Designer
"It's as clear as giving more freedom towards inclusive design. True open and public spaces that have more purpose than leisure or green space that make everyone feel protected and welcome. By treating all areas and sites equally and not basing design on caste or the demographics of the area. Too much has happened over the years in our public spaces that has harmed our community that has driven us to avoid spaces and certain locations because of our initial perception. It is too clear that design isn't equally distributed amongst all communities which has played a part, whether small or big, to how individuals react and feel comfortable in those spaces." - Corey Norman, Architectural Designer
"Rectifying the past and current harms through design starts with actively targeting specific projects that can make a direct impact in Black communities. Community projects are first that come to mind, but I also think partnering to create more multi-family mixed use housing near mass transit is equally important to both accommodate our expanding cities as well as keep historically Black communities intact. This isn't an easy feat. Realistically speaking there may be instances where these projects may not turn a huge profit because systemic racism has divested money from these communities. But if we are truly serious about redressing these harms and lifting these communities, taking the lesser fee to design for the greater good may be necessary." - Maxim Fields, Architectural Designer
Supporting Black communities through design
As we seek to redress and avoid ongoing harm, the design industry must also examine how our design processes can better include, support and invest in communities that have previously been neglected or divested from the built environment. Our colleagues share their ideas of design choices and approaches they believe could better support and celebrate Black communities and individuals.
"A design choice to support Black communities and individuals is to include local artists that reflect the community and the space. Using a community-based artist to design art specific to the project is a strategy to support not only the Black artist but also the people that can see themselves reflected in the art. Another way from a spatial aspect is to think about the users of the design. For instance, the presence of a family restroom removes the social impediment to equality for Black fathers with daughters and Black mothers with sons. From a material perspective, utilizing culturally relevant materials for a design is important to support the Black community. For example, the material design choices of the National Museum of African American History and Culture were intentional to the connection to Black people, including the tier shape of the exterior and pattern of the panels." - Asha Pérez, Interior Designer
"A key component for many Black public spaces is leaving room in the design where people can gather. During a J.E.D.I. meeting in my local office, we talked about how space is a negotiation between public resource and product and how all projects fall on this spectrum. This simple fact blew my mind! Mostly because many Black public spaces are overly policed, many are closed, and this in turn affects the fabric of the community. It also had me thinking about a project I worked on early in my career: at the community meeting, where the neighborhood was predominantly Black, the people requested public kitchens and shared outdoor spaces. This idea is something that so many Black cultures in the diaspora share and it's not new to design projects. I mean, the National Museum of African American History & Culture has a 'porch' for a very symbolic reason." - Maxim Fields, Architectural Designer
"I don't have all the answers but if designers had communicated clearly to the communities we built in, we could have avoided forceful gentrification and included generations of people of color in these areas. We need to listen to the necessities of the communities and apply them. Every project should have requirements that it gives back to that community, just as much as we have certain materials or local artist making murals and monolithic art pieces. This should be a basic building code or law. Boots and ears to the ground before Revit and hard hats." - Corey Norman, Architectural Designer
"The best design choices and approaches are the ones that involve the communities we want to serve. We should listen attentively to their needs or desires, and then ask them what they would want to see. Our role should be designing and building with their best intentions in mind. Through design charettes, regular stakeholder presentations, town halls, and involving individuals throughout the entire process, we can make sure the product has ideas inclusive of the end user." - Shawn Waddell, Structural Designer
Creating an inclusive profession
We believe firmly at SmithGroup that in order to design responsibly for a community, our project teams must reflect the community we are serving. As an industry, we've recognized a lack of Black design talent, and together are investing in the pipeline of diverse future designers. We asked our colleagues how the industry and firms like ours can ensure that Black designers, architects and engineers are welcomed and empowered in this profession.
"Before making Black designers feel welcome, we must first introduce more of them to the field. This starts with targeting K-12 schools in predominately Black neighborhoods, showing children that this profession is a possibility. Once they know of the profession, they will need guidance and support on the tools that are necessary for success. This mentorship should continue as they enter into the work force to ensure they are getting the same attention as their white counterparts. I've heard horror stories from Black professionals, in various professions where we are a small percentage of the population, who feel their voices aren't heard and leadership does not see them or set them up in situations where they can succeed. Coaching and placing them in positions where they are valued team members that can be depended on, will give them assurance that they are welcomed in the field." - Maxim Fields, Architectural Designer
"I would love to see more interaction with inner city kids. I grew up in an area where architecture wasn't known about at all and still isn't. I go home and visit, and my friends and their kids don't even know what I do. Some sort of pipeline system or exposure to these types of environments and situations would help with ignorance and maybe even blossom into interest in the profession if exposed earlier. I had a knowledgeable grandfather that brought up architecture to me, so I came out lucky. Great minds exist in 'hoods' as well." - Corey Norman, Architectural Designer
"The main ways that we can ensure more Black people are involved in these fields are through mentorship. Whether it is peer-to-peer or through mentorship programs such as ACE Mentorship, NOMA, NESBE, etc. Another way is by establishing clear career paths for Black designers to facilitate their growth, development and ultimate success. Lastly, investing your time and resources in the introduction of these fields of design to underprivileged and marginalized communities." - Asha Pérez, Interior Designer
"Mentorship, opportunity and a willingness to learn need to work hand-in-hand to ensure more Black designers and engineers enter the AEC field. Providing mentorship, through middle and high school speaking opportunities, camps etc., that focuses on Black communities is good way to lay the groundwork and to inspire young minds. I for one was inspired by a mentor to pursue design. Creating opportunities to learn, grow and develop are fundamental to setting up an environment for success. We not only want more people of color in the industry but making sure the right environment and opportunities to succeed are available." - Denge Agola, Interior Designer
"We can be more intentional with recruiting Black talent. Once within the fold, it is imperative to provide Black design talent with support, coaching, and opportunities to show they can succeed. This also helps with the retention of employees. People want to work where they are valued and where they can grow. If we can offer both reliably to all our employees – especially our Black designers/architects/engineers – progress is guaranteed." - Shawn Waddell, Structural Designer
"Become their advocate! I didn't know any Black designers, architects, or engineers growing up, but I had strong advocates – my parents! They supported programs that helped me achieve my goals and became my biggest cheerleaders, giving me confidence to pursue my dreams. If you see that passion and gift in someone, consider mentoring them. Tell them you believe in them and support them when and where you can. You have the power to help them feel a sense of belonging, right here, right now, not because they are Black, but because they are talented and deserve to be here." - Nikki Taylor, Lab Planner