Joe Louis Greenway Receives National APA Award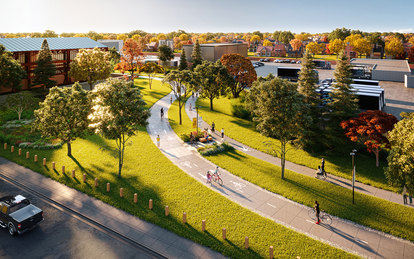 We are proud to announce that the Joe Louis Greenway (JLG) Framework Plan for the City of Detroit has received the American Planning Association's 2022 Advancing Diversity and Social Change in Honor of Paul Davidoff Award. Established over 50 years ago, the APA's National Planning Awards are selected annually by a jury of planning practitioners. Only one award recipient is selected in each of the four award categories.
"Your nomination stood out as the innovative leader in the category and as a national example of how planning and planners are working to make our communities better, stronger, and more resilient," said Kristen Asp, AICP, 2022 APA awards jury chair. The jury said: "This is serving residents of communities that haven't had access in the past. A great project that deserves recognition."
Also a winner in SmithGroup's 2022 Design Awards program, the JLG Framework Plan continues to establish itself as a national benchmark for inclusive, equitable greenway planning and development. Congratulations to the entire planning and design team for this outstanding recognition of the project's innovation and impact.  
View the APA's award page and project video here.
Read more about the Joe Louis Greenway here.