National Museum of African American History and Culture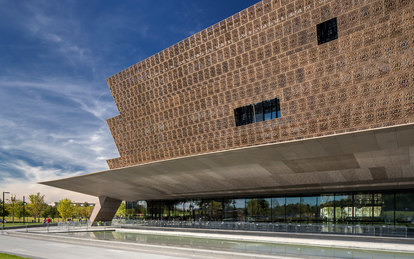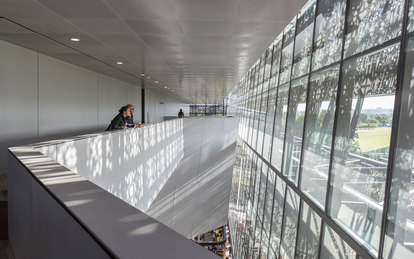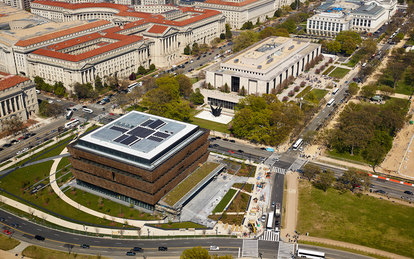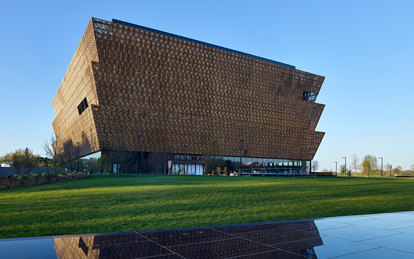 We design buildings to mean something. To do something important. They aren't empty structures that simply look impressive. They are built to last, to flourish, and to impact. The National Museum of African American History & Culture is a quintessential example of this mission. Inside the Museum is a culture finally being represented for what it is: people who have built this country, and continue to build it, despite the challenges they faced and continue to face.
Client
Smithsonian Institution
Location
Washington, DC
Markets/Services
Architecture, Cultural, Museums & Galleries
Size
350,000 SF
Featured Awards
AIA NY, Best in Competition, 2018
Beazley Designs of the Year, Architecture, 2017
Contract Magazine, Interiors Award, Civic/Public, 2017
AIA DC, Award of Excellence in Architecture, 2017
AIA North Carolina, Merit Award, Institutional, 2017
Building Design + Construction, Team Gold Award, 2017
NAIOP DC/MD, Award of Excellence - Best Institutional Facility, 2017
NAIOP DC/MD, Best of the Best Building, 2017
The National Museum of African American History and Culture (NMAAHC) is more than a building. It is a firsthand look at the experiences, objects, and creations of a culture that has been the backbone of American society for many generations.
The newest and most stunning addition to the National Mall since the National Museum of the American Indian, the NMAAHC sits between the National Museum of American History and the Washington Monument on the Washington Monument grounds, a stark but refreshing disruption to the more traditional DC architecture. Its site implies a significant piece of American history that has long been overlooked but is now finally being recognized and appreciated.
SmithGroup as a key member of the Freelon Adjaye Bond SmithGroup design team knew going into the project that the collections inside would represent more than the building itself. We worked together to design a structure that would reflect through material and shape the cultural traditions and symbols communicated on the interiors. For example, the building's shape is a corona, based on the design of a Yoruban caryatid column capital, a traditional type of carved West African column. The screen enveloping the building is made of 3,600 bronze-colored panels and references the designed ironwork of African Americans that surrounds many balconies and porches in the south. The structure even has a front porch, which has historically been a place of welcome and social interaction in the African American community.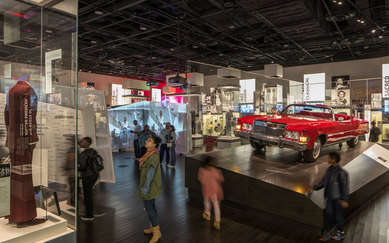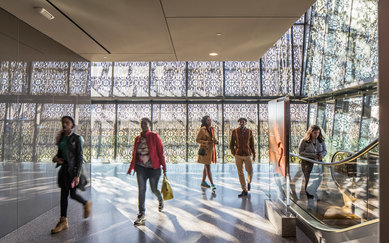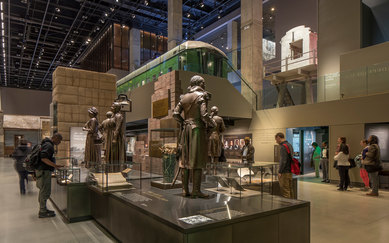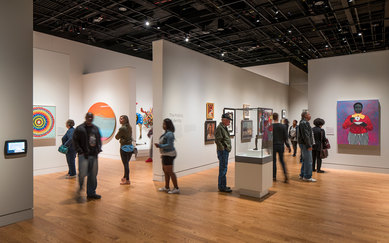 Like any building project that is to be constructed on the National Mall, an intense process of public and governmental review and input is required. Buildings that become cultural institutions are particularly susceptible to scrutiny, as people are more invested when their histories and cultures stand to be exhibited for the world to see. The design team was so diverse that it was able to offer a collectively dynamic perspective that won the hearts of all stakeholders.
Completed in 2016, the National Museum of African American History and Culture is transforming the role of civic institutions, uniquely showcasing history in a way that elicits hope for the future. As director Lonnie Bunch says, "[This] is not just a  museum for black people, but a museum to help people of one culture understand the experience of people of a different culture."
In today's world, the willingness to learn about others and their backgrounds is paramount, and the NMAAHC is paving the way toward greater empathy, understanding and in turn, greater progress.