SmithGroup's Design Concept for MSU Multicultural Center Is Revealed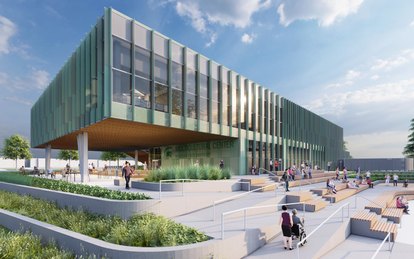 Today Michigan State University (MSU) unveiled the design concept for the university's first free-standing multicultural center, located in the heart of campus and expected to break ground this spring. The new 34,000-square-foot center is designed by SmithGroup, one of the nation's leading integrated design firms, to cultivate a culturally rich and welcoming environment that promotes intellectual curiosity among students to learn and share experiences with one another.
Planned features of the MSU Multicultural Center include a Dreamer Center to help undocumented students succeed academically and professionally; collaboration spaces; office space for the Council of Racial and Ethnic Students and the Council of Progressive Students Council; prayer rooms; an art gallery wall; a resource center and other amenities.
In addition to creating an inviting space indoors, the same intentionality will extend to the center's outdoor spaces, including the amphitheater facing the Red Cedar River. There, students will be able to enjoy performances of music, dance, theater and other forms of cultural expression.
"The new MSU Multicultural Center will be a sanctuary for all minorities and provides opportunities to celebrate and acknowledge our collective histories," said Monteil Crawley, Design Principal at SmithGroup. "It empowers people to learn about who we are today and allows others to overcome their fear of what they don't understand or haven't experienced. The center aims to educate all on the richness of multiculturalism."
"For students to succeed beyond the walls of an institution, it is essential to build a culture that values diversity, equity and inclusion," said Tricia Beck, Vice President and Higher Education Studio Leader in SmithGroup's Detroit office. "Michigan State University's new multicultural center strives to create a welcoming environment that encourages the acceptance and expression of all genders, races, religions, abilities and cultures."
Aligning with MSU's DEI Strategic Plan and supporting efforts to attract an increasingly diverse student body, the center symbolizes the university's commitment to diversity, equity and inclusion by establishing a safe space for students of historically underrepresented groups that enables a stronger sense of belonging. Embracing inclusivity in the design process, students and community stakeholders provided input and feedback on the building's design and layout during several community engagement sessions facilitated by SmithGroup.
The Michigan State University Board of Trustees, during its February 2023 meeting, voted to authorize the university to proceed with its plan to build the multicultural center. The authorization allows MSU to break ground on the new center, which is expected to happen later this spring. The center is anticipated to be completed by fall 2024.
SmithGroup is providing integrated design services, including architecture, interior architecture, landscape architecture, lighting design and MEP and structural engineering, along with leading a team of minority-owned and small business partners. The project is a collaboration between the firm's Cultural and Higher Education practices.
For more information about SmithGroup, please visit our Company Fact Sheet.