Arts & Industries Building Revitalization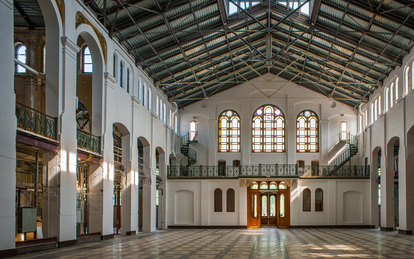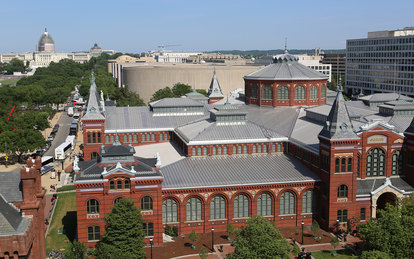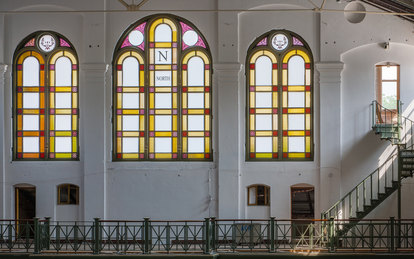 A Romanesque beauty has stood on the historic National Mall for the past century, drawing attention with its steep pyramidal tower roofs and its grand facade was in need of a dramatic restoration that SmithGroup was brought on to tackle.
Client
Smithsonian Institution
Location
Washington, DC
Markets/Services
Architecture, Building Enclosure Consulting, Cultural, Fire Protection and Life Safety Engineering, Historic Preservation, MEP Engineering, Museums & Galleries, Sustainable Design
Size
12,000 SF
Featured Awards
Award of Merit, Historic Resources, AIA Washington, DC Chapter, 2016
AIA Virginia, Merit Award in Historic Preservation, 2015
Building Design + Construction Magazine 32nd Annual Reconstruction Awards, Silver Award, 2015
Washington Building Congress, Craftsmanship Award Winner, 2014
Built in 1881, the Arts and Industries Building was constructed to be the United States' first national museum, housing the country's artifacts. It became a treasure chest, and for decades, the monolithic splendor exhibited the nation's most coveted artifacts.
Gradually, the building's function shifted from exhibition to administration, serving as an office building for years. Many of the original design features like the Roman archways were blocked off with infilled walls. New floors and partitions were added, and frequent renovations marred the interior with incongruous and historically irreverent updates. The building envelope and structure suffered damage, as a result, spanning from foundation to roof.
SmithGroup, in a joint venture collaboration with Ennead Architects, conducted several studies to determine the precise condition of the building and concluded that although it was capable of being restored, its environment could never be controlled enough to exhibit artifacts, whose delicate nature require meticulous control of humidity, lighting, and dust.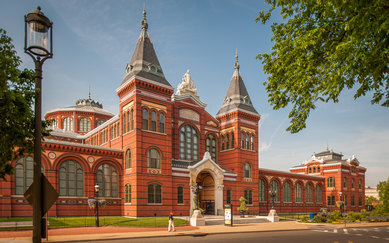 Our team began the immense task of repairing and stabilizing the building envelope. Crews replaced the magnificent metal and slate roofs, locating matching slate and a matte-finished stainless steel to mimic the original tin. A new steel structure was installed to augment the original iron trusses and to improve seismic, wind, blast and snow-load performance. Inside, teams removed extraneous infill walls and uncovered elegant arched openings to recreate the original sight lines, allowing interiors to bask in natural light. Ornamental metal work was removed, restored and replaced, and the 17 historic interior spaces were exposed and emphasized.
SmithGroup also implemented sustainable elements into the design that include energy efficient aluminum windows with steel framing and energy efficient insulation to the roof structure.
Though the Arts & Industries Building is no longer serving as exhibition space for artifacts, it is still capable of teaching visitors through its restored architectural features that tell a long story about the museum, the building, and the design that brought it all back to life.